Article by: RobRed
Applicable Models: Any Vehicle
Last Updated: Saturday, October 22, 2016
This article is part of a new series. In the past (2012 and 2014) I posted the organization and load out for our camping adventures. Essentially those posts were examples and gear lists. In this new series I'm going to be covering subtopics with a little more detail in each category. Here are the previous posts regarding camp gear organization
Here we are in Full Swing of the 2015 Camp and adventure season and much has changed in the TLCFAQ adventure deployment gear. For starters our 2000 Toyota Land Cruiser got a major upgrade in accommodations; we purchased an Autohome Columbus Variant Roof Top Tent and added a Slee Offroad rear bumper with swing outs. These additions have changed our setup quite a bit. Not just in sleeping accommodations or spare tire location but gear strategy and ergonomics on the Land Cruiser itself. I know not everyone needs our exact setup but hopefully you find some useful tips and ideas. I've linked many of the products below to make it convenient for you if you like something and want more info or to buy it.
—
Camp Kitchen / Chuck Box / Mess Kit whatever you call it is an essential part of the camping experience. I've read many forum threads and blog posts on the topic. Everyone seems to agree you need one, most disagree on the best strategy. I'm going to present my strategy and gear choices to hopefully add to the conversation and perhaps inspire you to think about your setup. I'd love to hear your thoughts so please comment below.
Our strategy in my opinion is very straight forward. It's designed for two people who are not culinary wizards but like to prepare food versus add hot water and eat. Since we like to cook in the field our choices may not be for everyone. The kitchen must compact and store well in the Land Cruiser and not have a lot of moving parts.
Our kitchen system consists of 5 main components: The platform (table) that holds everything while deployed, the stove, the fuel that powers the stove, water, and the kitchen box which has the tools for cooking.
The Platform: Our kitchen starts with a Coleman Compact Roll-Up table. Ours is an older model with aluminum slats, 6 legs, at about 30″ x 47″. It stores rolled at about 30″ x 7″. This table provides a base to hold our stove and the "kitchen box". This table has held up well since 2010 and I can easily recommend it. Unfortunately it's been discontinued by Coleman. Here is alternative table of similar size.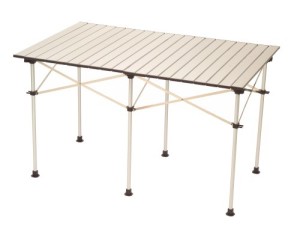 Water: Recently we wrote about a kit from Living Overland to pump our water from our Scepter/LCI 5 gallon Military Water Cans (MWC).
This system consists of a 12 volt pump connected to faucet that has been fixed to a cap that fits the Scepter. When we have the MWC on the rear bumper swing out of the Land Cruiser it provides a very convenient location for the faucet. Just like your chefs triangle at home or at least the overland equivalent.
The Stove: We've used a number of multi burner stoves over the years like Camp Chef and Coleman but for 2015 and beyond we upgraded to Partner Steel. PS is probably considered the preeminent builder of expedition stoves. These are hand built in Idaho from aluminum and stainless steel. These rugged stoves were originally designed for the white water rafting crowd but soon found fans in overlanding. Many builders of overland trailers like Adventure Trailer use PS stoves as standard equipment. They are simple and amazingly effective. You won't find creature comforts like piezo ignition or built in griddles – just a very well built stove for a lifetime. For our PS stove we chose the 22″ two burner with wind screen. The model provides additional spacing between burners (compared to the 18″ model) and has a latching lid that stows the side wind blocks. You can easily get two 10″ pans going at a time. The burners are rated for 10,000 BTU each. The stove comes equipped with a regulator and connection hose for bulk propane use. You can get an adapter and use a 1lb. bottle to power the stove. That seems to work just fine. The stove doesn't come with any kind of carry case. Since we carry ours in a storage slot in the land Cruiser I opted to source a hand made case from Blue Ridge Overland Gear. They created a custom fit padded cast to hold this 22″ model perfectly.
The Fuel: This is very straight forward. We graduated from the 1lb Coleman bottles to bulk propane. Our setup consists of a Powertank Propane Mounting Bracket bolted to the rear bumper swingout of our Slee Offroad bumper. Fitted to the Power tank bracket is a Worthington 11lb bulk propane bottle.
The size of bottle fits perfectly in the Powertank bracket and is in the perfect location to feed our Partner Steel stove when the kitchen is setup. It's also safer to carry propane fuel outside the vehicle.
The Kitchen Box: Guess what it's a Pelican case?! I know you are surprised. What can I say? I have a problem. I should own stock in Pelican. The base case is the Model 1550 without foam. This case is about the size of a medium suitcase and protects everything inside with a crush proof exterior and watertight gaskets sealing the lid.
I choose this case as the basis for the tools and utensils as it packs well in the current Land Cruiser setup and makes for a challenge not to over pack – plus I found this on Craigslist for $30. Inside the case I have a large Kelty Cache Box and an Eagle Creek Half Cube nylon packing bag. Here is an inventory of what's inside the Pelican case including the sub list of contents of the Kelty Cache "Kitchen Kit":
Magma Products Gourmet Nesting 10-Piece Stainless Non-Stick Cookware (see Image Below)
SnowPeak 450ml Double Wall Titanium Mugs with sippy lids, x2
GSI Outdoors Infinity plates (packed in Eagle Creek Half Cube bag), x4
Bernzomatic mini butane torch
Kelty Cache large Box

Magma detachable pot handles, x2 (kept in REI tent stake bag)
REI poly Knife, Fork, Spoon, x6 plus Long Spoons x2 (kept in REI tent stake bag)
Various Spices in each TAP Plastic 2oz bottles, x18 (kept in Eagle Creek Half Cube)
Bottle of Tabasco, 2oz
Ipow silicone measuring Cups, .25C and 1.0C
Kitchen Aid 5″ Chef Knife with case
Kitchen Aid 7″ Chef Knife with case
Calphalon nylon Spatula/Flipper, small
Wooden Spoons, 10″ (x2)
Marinade Brush
MSR Brush Scraper (for cleaning dishes)
Disposable Sponges, x5
Zip-Lok bags, Quart size x15
Glad Kitchen Garbage Bags, 13 gallon x5
Microfiber cloth 12″x16″, x4 each
A few items I kept in the previous larger Pelican 1610 case are now located in other spots in the vehicle. For example the paper towels are now attached to the ARB fridge with a bungie cord and can be moved to the rear swing out when the kitchen is set up. Purell hand sanitizer lives in both front door pockets of the Land Cruiser and we simply move one to the kitchen area. Extra butane for the mini torch now lives in the Land Cruiser drawer system. There are several other items that have been redistributed from the old larger Pelican to other locations in our gear setup. These items tended to be filler for old large case. The bottom line is all of the main tools for preparing and eating food are at hand in the Pelican 1550 case.
We've used this system on several multi-day trips this year including 5 days in Death Valley, 5 days in the Lost Coast and 11 days in Moab. We are finding it very convenient to setup and use. The single smaller Pelican case is much easier to manage and pack. I'd love to hear your comments and approach to packing your kitchen for overland adventures.
Comments
comments