Article by: RobRed
Applicable Models: Any Vehicle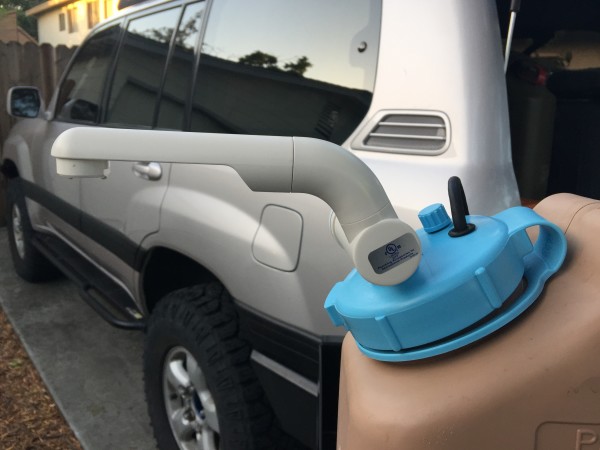 Genius. Simply genius.
My life is complicated and full of first world problems. One of the nagging, incomprehensible atrocities of my life is having to tilt a Military Water Can (MWC) in order to get some of that precious water to flow. Thankfully this incredible hardship has been mitigated to simply plugging in a 12 volt plug and turning a knob.
Beau Johnston and Living Overland to the rescue. Beau and his crack team of "make-it-easier" engineers came up this little goodie to solve some of life's biggest problems. Getting water out of that MWC quickly and cleanly with a minimum of inconvenience. Sure you have to dunk the pump and screw on the cap but that pales to the inconvenience that is the Scepter MWC.
Using a factory Scepter MWC cap the Living Overland H2O System attaches an articulating faucet coupled to a 12 volt submersible pump. The pump is powered by a 12 volt cigarette type plug. If you have a Land Cruiser 100 with a Slee swing out I recommend the 5′ power cable option. Perfect for the rear power socket in the Cruiser.
To use it simply remove the standard MWC cap, replace with Living Overland faucet cap and plug into 12 volts. In less than a minute you are extracting beautiful dihydrogen monoxide at a rate of (up to) 1 gallon a minute.
I tested 100% compatibility with Scepter and LCI Military Water Cans. Living Overland does make a Reliance water can compatible system as well.
Genius.
---
Parts List:
1 Whale 881 submersible pump (*now GP1352)
1 Shurflo 94-009-01 faucet
2′ of 3/8″ID tubing
2′ 6″ 18ga two-strand wire (18-2)
1 12V cigarette outlet adapter
Heat-shrink tubing
3 zip-ties
1ea rubber wire grommet
Sceptre MWC
This system is available pre assembled or in kit form. Contact Living Overland http://www.livingoverland.com/p/store.html
Comments
comments