Article by: RobRed
Applicable Models: 1998 – 2007 / 100 Series Land Cruiser or Lx 470
Testing Background
Back in late 2012 a thread or two on iH8Mud sprung up regarding exhaust options for the 100 series Land Cruisers. Two systems had been at the forefront of the discussion. Doug Thorley (DT), a manufacturer who developed the original headers for the 100 series and  EMSPowered, a vendor who had been a long time supporter of the 80 series platform now interested in supporting the 100 series. At the behest of several iH8Mud members, the two manufacturers contacted me to evaluate their systems in an end user environment.
DT and EMS sent their cat back systems to me for evaluation and dynamometer testing. The systems were supplied to me at no cost and both vendors insisted they didn't want them back. As such I informed them that I would not resell them. Both vendors offered to assist with dyno expenses but I declined those offers. All expenses incurred are out of my pocket with some modest support from a few interested TLCFAQ and iH8Mud members.
Dynamometer Saga
When I received the DT and EMS systems for testing the timing was December 2012 and scheduling for installs and Dyno time was pretty hectic so I looked at getting this done in January 2013.
I used 034 Motorsports in Fremont CA for the dyno work on the DT headers and again pulled them into service for this testing. The first test of the stock system was done at the beginning of January 2013. Doug Thorley system was installed immediately after the stock system.It was then driven and evaluated. The DT system was then dyno'd mid-late January 2013. EMSPowered system was installed and Driven. Dyno time booked… This email comes to my inbox on Feb 1, 2013 regarding the 034 Motorsports Land and Sea Dyno:
" It looks like the issues that we were having before were due to one of the major roller bearings about to fail. Unfortunately, that bearing did completely fail last week, and has done some damage to the dyno itself. We are waiting for some new parts to get it back up and running, but It looks like it will be a week or two before we get it up and running. We also have 4 in shop tuning projects lined up to get working on, we are waiting to deliver, once it gets going again, so right now we are a pretty painful situation for dyno work. I do appreciate all of the work you have done here till now, but its going to probably be a couple of weeks until we have a dyno up and running again."
Not hearing back from 034 I sent a follow up email on March 5, 2013 inquiring about the Dyno status. I got a telephone call back from 034 stating that the Dyno failure was more than a bearing and involved the eddy current brake… dyno has to go back to manufacturer (Land and Sea Dyno). This is a problem for our cat back testing as we cannot mix results between two different dyno's, even the same model. No matter what I would have to start the dyno testing from scratch.
Coincidentally back in November 034 had already ordered a new Mustang 4WD dyno prior to this failureand is supposed to arrive 3/5/2013. A delay, but livable  Unfortunately the truck carrying the new Mustang was involved in an accident in Nebraska. More delay. I told 034 I had to get this done and I was moving on. With their help I sourced another a great shop with a 4wd dyno.
New Plan
Starting over with a new shop and new dyno; since the EMS was on the Land Cruiser already (waiting for that last run at 034) I started with that system. The plan was then to dyno EMS, then DT and then back to stock Toyota… and that's what I did.
The Systems
Doug Thorley Headers
1220 W. Railroad Street
Corona Ca 92882
Phone: (951) 739-5900
http://dougthorleyheaders.com/
EMSPowered
11400 Old Lockhart Hwy
Building D
Creedmoor, Texas 78610
Phone: (512) 686-2800
http://www.emspowered.com/
Dyno Run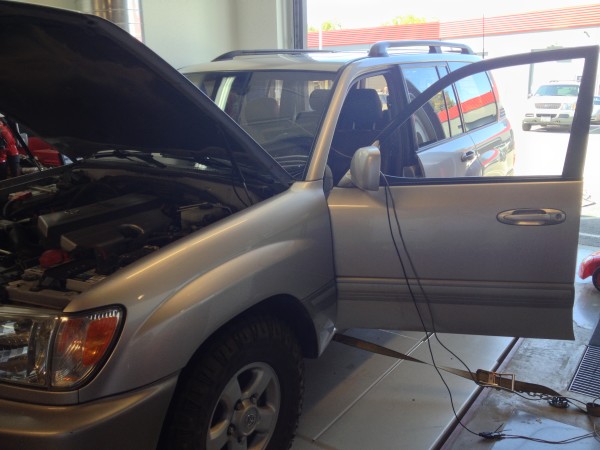 Vehicle: 2000 Toyota Land Cruiser
Mileage: 160,977 to 161,232
Configuration: DT Headers + OEM Catalytic Converters + Exhaust Tested
Variables: 
Spark Plugs: OEM @ 139,003 miles
Airfilter: OEM @ 160,823 miles
Catalytic Converters: OEM @ 0 miles
O2 Sensors: OEM @ 157,518 miles
Fuel: Chevron (CALIFORNIA) 91oct
Engine Oil: Mobil 1 5/30 @ 160,823 miles
Diff / XFer Oil: Mobil 1 75-90 @ 143,804 miles
Driveline Lube: Sta-Lube Extreme Pressure Moly @ 160,823 miles
Throttle Body: Cleaned @ 160,823 miles
Tires: Goodyear Duratrac 285/75-16 (36PSI cold pressure)
Environment:
Superflow AutoDyn 30 – All Wheel Drive Chassis Dyno
Altitude: 42.7' above sea level
Air Temp in Bay: 73*
Ambient Air Temp: 67*
Intake Air Temp: 107*
AT temp: 121 – 138*
Coolant Temp: 193*
Gear Selection: 2nd Gear Used (2nd Gear Start enabled)
* Each run was averaged for values within an exhaust group, then the 3 groups of runs averaged for the shown values.
Though 5-6 runs per system were conducted I took the best 3 runs of each and averaged the results.
Each system was installed and tested with new OEM gaskets and used supplied manufacturer hardware only for assembly. The original factory rubber hangers were used on each system.
Horsepower
Evaluation, Driving Impressions, Sound and Living with a Cat Back:
Coming Soon – I wanted to get the data points up on the site and will be giving my evaluation of each system shortly. Stay Tuned.
Comments
comments