Article by: RobRed
Applicable Models: Any Land Cruiser or LX
Updated: 7/15/2012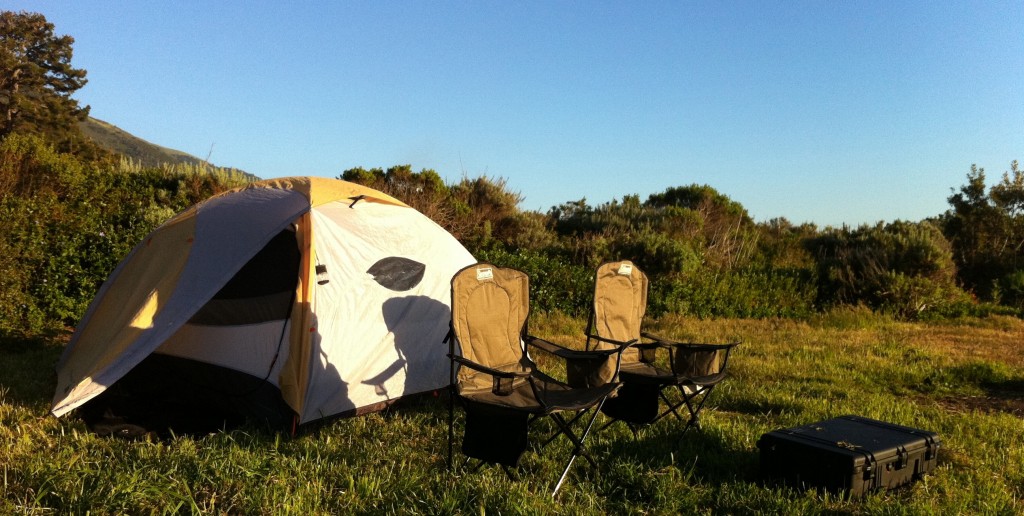 Car camping is one of those things that most people love or hate. Not much in between. I've asked the people in my life that don't like camping, why? The responses include these universal, top objections;  "it's dirty," "I don't like to sleep on the Ground" or "it's a hassle." I, on the other hand love to camp, but I do agree with those objections. It is dirty, sleeping on the ground is no fun and it can be a hassle. I'm a little older now and have learned the discipline of being prepared and organized. I find with a little prep work none of those objections become an issue.
In the old days I just threw stuff in the trunk along with a cardboard box of full of food and a crappy old cooler and went for it. That has it's place but for comforts sake and to enjoy yourself by not having warm beer and soggy food, some organization goes a very long way. Back then I had a Budweiser logo'd sleeping bag that was good down to about 60 degrees… not a sweet setup by todays standards. The goal is to keep the spontaneity of the cardboard box but I want utensils when I eat. These days I like to tell folks I can be loaded up and ready to camp in 15 minutes… Just add food. It aways takes me time to raid the fridge or hit the store but the basics are always ready to go and adding food and beer only adds 15-30 minutes. Here's how I do it.
Our Queen Size Sleeping Bag, stove and chairs next to our Pelican 1650, 1610, 1510 and 1500EMS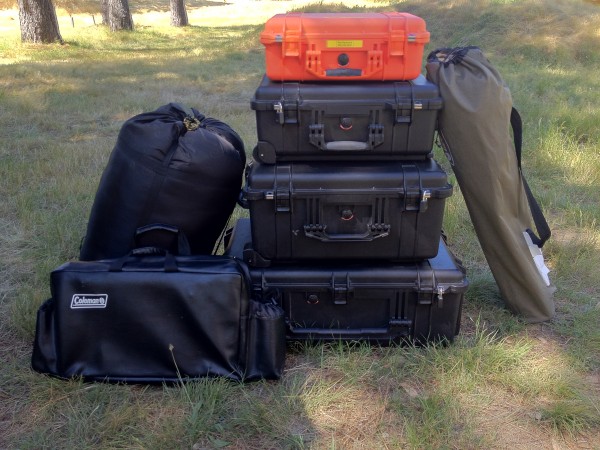 Today our gear is mostly contained in two Pelican rolling cases. These cases are dust proof, water proof and indestructible making them perfect for a 4×4 camping adventure. Our Pelican cases basically contain two systems, one in each case. The first system is the kitchen. This Pelican 1610 holds everything but a stove for the kitchen. All of the pots, pans, plates, knives, cleaning supplies etc. are contained in this case. The second Pelican 1650 case holds shelter; our ground tent, air mattress, lanterns, tools, spare batteries and even a back packing stove (as a backup). This case could actually be used for a survival kit by itself. Inside the Pelican cases are other sub-cases that organize further. It's important to have like systems together so you can find what you need easily, every time. Having smaller items in sub cases can also yield better internal packing by reducing odd shapes to a manageable form factor. For example I have flashlights, head lamps and small lantern in a single "lighting" sub case. The "kitchen" Pelican takes it a step further in that we have a modular cookware system from MSR called the Flex 4 plus a small drawer system I bought at the local organize store.
In addition to the two cases we have chairs and a table plus our kick ass queen sized sleeping bag, cooler or fridge, and stove, carried loose in there respective carry bags. Having these items loose gives us a choice of what to bring for the environment. Sometimes we want the cooler instead of the fridge (cooler easier to deal with in bear boxes). Some times we opt for more grilling then pot cooking so the other stove may be better for that. If we know there is a table where we are going then we can leave ours home. These loose items are flexible in terms of needs.
Kitchen Drawers (From the Pelican 1610)
The Pelican 1510 you see above is an optional case to carry some pro SLR gear. Its pretty compact and protects a body and a couple lenses etc very well. There is one more system that bears mentioning – The first aid kit. We have a small kit always in the Land Cruiser but we have all the good drugs in a separate Pelican case (model 1500EMS). Like every Pelican it's air tight, water tight and indestructible. The 1500EMS is a purpose designed case for first aid and trauma responders. It has multiple dividers and a special insert in the lid to organize supplies. Previously I used a Pelican 1400 with sub cases (bags) to hold bandages separate from medications. We simply out grew it but it made for a great first aid kit.
All of this gear is at the ready whenever the mood strikes us. We never have to think about as it's stored in the "camping" closet in GO mode. I'd love to hear your ideas and tricks – click the link at the bottom of this page and join the conversation. Tell us how you do it.
Basics (Loose):
TETON Sports Mammoth Queen Size Flannel Lined Sleeping Bag (94″ x 62″, Green)
Coleman Oversize Quad Chair with Cooler (x2)
Camp Chef Denali 3 Burner Stove AND/OR Coleman Peferct Flow Insta Start Stove, Single Burner with Grill
Coleman Compact Table with Cover (6 person)
Coleman 70qt Extreme Cooler OR ARB 63qt. Fridge Freezer.
Reliance 5 Gallon Water "bags" x2
Pelican 1500EMS Case FIRST AID Kit
Optional Pelican 1510 case for Camera Kit
Optional 5 Gallon Bulk Propane Cylinder
Pelican 1610 Roller Case (Kitchen):
6 pairs of Little Hotties Hand Warmers
6 Mini Bungee Cords
Roll of Paper Towels
Large Plastic Table Cloth
MSR Flex 4 System Cook Set
MSR Flex Skillet
GSI Outdoors Glacier Stainless Steel Bottle Cup (x2)
Generic plastic 1 Cup Measuring Cup
 12oz Dish Soap
1lb Propane Fuel Bottle
GSI Outdoors 32oz Halulite Tea Kettle
10 Generic plastic Shopping Bags
42″ Telescopic Camping Fork (x2)
Reynolds Wrap Foil HD
Coleman Camp Stove Toaster
Petzl LED Head Lamp
Eagle Creek 8″ x 6″ Nylon Mesh Zipper Pouch
Oven Mitt (nested in nylon Mesh bag)
Bernzomatic 019585  8″ Flexible Stem Gas Lighter (nested in nylon Mesh bag)
Spare Butane Fuel (x2) (nested in nylon Mesh bag)
Blue Scrubbing Towels (x3) (nested in nylon Mesh bag)
Eurow 12×12″ Micro Fiber Cloths (x6) (nested in nylon Mesh bag)
Sterilite 3 Drawer Organizer
Cooking Spices (Sterilite Drawer 1)
Zip Lok Bags, Large and Small (Sterilite Drawer 2)
Hand Soap (Sterilite Drawer 2)
Matches (Sterilite Drawer 2)
Scrubbing Sponges (x2) (Sterilite Drawer 2)
Hand Sanitizer (Sterilite Drawer 2)
Small Garbage Bags (Sterilite Drawer 2)
Cottenelle Moist Wipes – bulk 42 (Sterilite Drawer 2)
REI Campware, Knife, Fork, Spoon x6 (Sterilite Drawer 2)
Swingaway 405 Can Opener (Sterilite Drawer 3)
Kitchen Aide 5″ Chef Knife (Sterilite Drawer 3)
KitchenAide 7″ Chef Knife (Sterilite Drawer 3)
Dish Soap 3oz  (Sterilite Drawer 3)
Oxo 10″ Tongs x2 (Sterilite Drawer 3)
Wooden Spoons, 10″ x2 (Sterilite Drawer 3)
Oxo Metal, Silicon Spatula (Sterilite Drawer 3)
Marinade Brush (Sterilite Drawer 3)
Rubber Scrapper (Sterilite Drawer 3)
Metal BBQ Fork  (Sterilite Drawer 3)
Plastic Cutting Board, small
Plastic Cutting Board, medium
6′ Bulk Propane adapter/hose for stove
Pelican 1650 Roller Case (Shelter):
Small Bungees x6
Medium bungees x2
U-Dig_it Stainless Hand Shovel
Lennox 8″ Folding Saw
Mylar Survival Blanket x2
Coleman Rain Poncho x2
Little Hotties Hand Warmers, Pair x6
SE Military Lensatic Compass w/ Pouch
13 Gal Kitchen trash bag x6
30 Gal Trash Bag x2
ZipLok Bags, Small x4
ZipLok Bags, Large x2
Pelican VB3 Clip LED Light
LED Flashlight, small, 3 aaa
Cottonelle Moist Wipes, Individual x6
Misc Nylon Straps x3
Reusable Grocery bag, Large
Misc Zip Ties x20
Memory Foam Pillows x2
BananaBoat SPF 30 Sunscreen 8oz
MSR Pack Towel XL x2
Coleman Quickbed With 4D Pump, x4 D cell batteries in black Pouch
REI Half Dome 4 Tent, Poles, Stakes and Footprint
Airhead Vinyl Repair Kit
Cotton Pillow Cases, medium x2
Snow Peak 450ml, Double Wall Titanium Cup x2
Spare Batteries, D, AA, AAA in Yellow Pelican 1050
Loop Roop, 5′
Generic 4″ Squeeze Clamps x2
Dice, Cards and Hacky Sack in nylon pouch case
Black Diamond Titan Lantern
Black Diamond Apollo Lantern (white lighting case)
Black Diamond Spot Headlamps x2 (white lighting case)
Coleman Xponent Mini LED Lantern (White lighting case)
Mini LED Mag Light  with stand (White lighting case)
AA batteries x6, CR123a Batteries x3 (White lighting case)
AM/FM Radio (AA x2 power)
Gerber 10″ Hatchet
Roll of Heavy Duty Duct Tape
MSR Duralite Cook System [2 Pots, lid, handle, Cutting Board, Towel]
MSR Whisperlite International Stove (nested in MSR Pots)
Snowpeak Titanium Sporks x2 (nested in MSR Pots)
Matches in Dry Container (nested in MSR Pots)
Tinder in Ziplok (nested in MSR Pots)
Paper Towels x6 (nested in MSR Pots)
Foil Wind Shield (nested in MSR Pots)
IsoPro Fuel 8oz, x2
50′ 3/8″ Nylon Rope
25′ of super light twine rope
Comments
comments